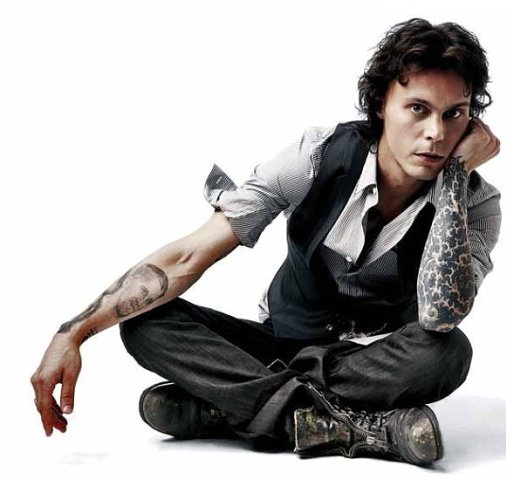 Yesterday HIM fans were the most happiest people in the whole world. Their God was born 40 years ago on this day in the wonderful Finland. He has changed the world of music and the lifes of more than hundred thousand people forever. Ville Hermanni Valo is the dark prince with a light soul and a great heart. He is the hottest man from the coldest country. He is a poet and a musician in one face. He is a real man. He is the whole enigmatic Universe! He is a dream!
Ville is a good man, and only good people are around him. And now girls and guys from all around the world want to say the warmest words about how much Ville Valo means for them.
Eatmusic join to the all congrats and wishes. And we want to add only one important thing: "New age is just the new begining of a Great way". Happy Birthday, forever young and handsome "His Infernal Majesty" Ville Valo!
What does Ville Valo mean for people from the whole world?
Brittney DeVries, The biggest HIM lover, USA
He is a very kind person and very sweet. I believe that he does care about people. He appreciates artwork and gifts, and always says "Thank you". He is a great singer and songwriter. He has a very good sense of humor and can make you laugh.

 
John Wins, Designer & Writer, Brazil
I don't see Ville as a God, but as a man with love, poetry and music in his veins. He is a human, but a human that will sing with his heart every single song. That's Ville Valo!

 
Nico Pohjola, Guitar player / Seraph band, Finland
Been a huge HIM fan since Razorblade Romance and being an aspiring musician myself, it's important to know who to steal your best ideas from. In the words of late, great Peter Steele: Rip off the best!
| | |
| --- | --- |
| Nico Pohjola | John Wins |
Pia Valo, Student & Ville Valo's wife in her dreams, Germany
He is my favourite musician for almost 13 years! The erotic voice I listen to, when I try to get over an unhappy love or when I feel lonely and I want to be alone! My early new years voice I listen to when a new year end or begins, depends on the situation of new years ending feeling!

The first man I fell in love with in my early teenager life!

My one side marriage because he did not agree to marry me! :)
Lily Sonrisa, Dancer & Traveler, Russia
I am lucky that Ville Valo and HIM exist in my life.

When I feel bad, I listen to Ville Valo and his songs take away all negative emotions from me.When I have a good mood, I listen to Ville Valo and my smile becomes wider. His music is real medicine. That's true. And I met my best friends becauase of Ville and HIM. So Ville is a part of my life, my soul, my heart. God, bless Ville Hermani Valo.
| | |
| --- | --- |
| Pia Valo | Lily Sonrisa |
These amazing words will warm Ville in the cold Finland. He will feel your love for sure. Thank you, guys! Now we all can see that the right music is connecting people!