The great things are always created by the great people! It is absolutely true. It is a main key of success.
The biggest northern festival Tuska has celebrated its 20th anniversary this year. The event was amazing! It was done, of course, by friendly crew behind the scene. It is a hard work. And it deserves such a big success, for sure.
Eeka Mäkynen has been worked as a CEO for Tuska since 2014. He is a chief and a leader of this big team, but in the same time he is a friendly, open-minded, funny and smiling person. These qualities are very good for a «Big Boss».
Eeka has told us many interesting things about the festival, about his work and, of course, about the end of HIM history. So, read and enjoy!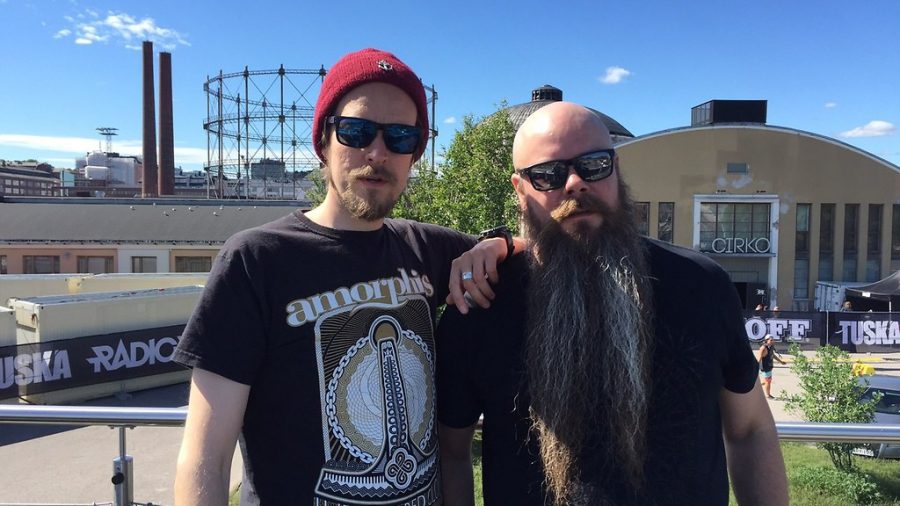 EM: When did you start your way as a CEO of Tuska Festival?
Eeka Mäkynen: This is my third Tuska. I'm a sort of newest person on the way. But it is 20 th anniversary of the festival, and many people are the same from the start, like a promoter who has been booking the bands 19 years yet. So, I'm a kinda new person here, but I'm so glad to be a part of this crew, because it is a super festival!
EM: Do you know or may remember how did start the first Tuska festival?
Eeka: Yes, of course. The first one started at the famous Finnish rock club Tavastia. There were a couple of guys who wanted to do a metal festival. And the club's owner said: «Cool! Let's do it! » And they did it on two stages of Tavastia and Semifinal clubs in two days. It was a proper metal festival. There was a lot of people, of course, I think it was a sort of sold-out. And the guys thought: «Ok, let's move to the open air! » The second festival was on open air, and there was a couple of thousand people. Then the festival moved to Kaisaniemi. This is a park in the center of Helsinki. Tuska had sold-outs in the new place in advance every year, it grew bigger. We decided to move to Suvilahti seven years ago. So, we are here ever since!
EM: Tell us about Tuska 2017 in general.
Eeka: There are super good bands here for three days. This is Tuska 2017!  Most of all we have two great exhibitions at two galleries in the center of Helsinki (Exhibitions by Ville Juurikkala). We have our Tuska anniversary's song, you can check it on YouTube. We have Whiskey bar, we have Black Dinning restaurant, we have a sauna, we have a grill area, we have a lot of interesting discussions and entertainments here, we have a sold out once again. We have a lot of experiences for people who came to see the festival. So, you can enjoy something special between the band's gigs. This is really cool!
EM: What is the most difficult things for a CEO of the festival? And what makes you smile about it?
Eeka: We have the best crew ever! We enjoy working with each other and have fun all the time! And, of course, we have some difficulties too. For example, we have read about the storm on Friday night before the festival opening. It was a really windy night. And we have just finished all the constructions, everything was done. A lot of people have been working on the night shift and making changes, because we expected a really windy Friday too. So, this kind of things are the hardest part of our job. Anyway, we do the festival the whole year, this is a great work. And it is just for three days, and then it's gone. This is so sad. On Monday you think: «What happened? » (smiling)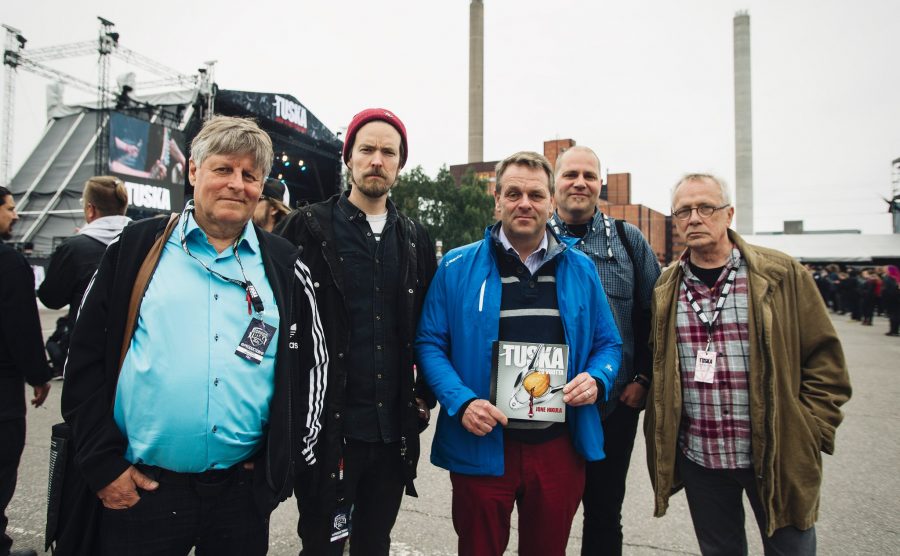 EM: What do you think about putting some Russian rock bands on line up of the festival?
Eeka: We usually have the local bands and the foreign bands like fifty-fifty. We have quite much Finnish bands this year. One of the headliners is HIM, and the show was great. We are thinking about Russian bands a lot. We know some bands we are interested in. We have no idea how to book a small band. But booking a big band is a budget issue. Anyway, we can try to do it, because Russian customers are the second biggest audience among foreign people in this year. They were on the first place about ten years, but it changed last year. Germans are number one now.
EM: Which rock fest of the world is the coolest one for you?
Eeka: For me the coolest festival is Roskilde (the main Scandinavian rock fest based in Denmark). I'm so sad that it is on the same weekend. I've been there in 1999. It was something special. I have seen a lot of festivals from whole around the world, of course, but the Roskilde is the coolest for me! It is the leading festival how to do the things for me. I really love it! Roskilde fest is my favorite one, but after Tuska! (laughing)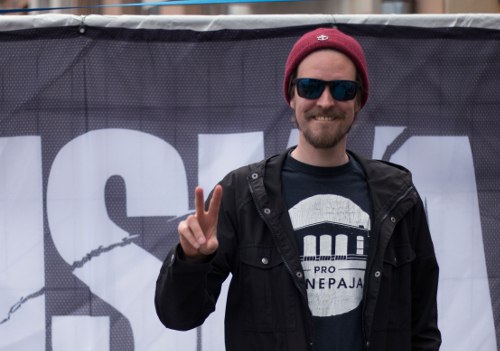 EM: Do you know some Russian rock festivals?
Eeka: I'm afraid I don't. I know more about promoters, Russian music agencies, band's managers, but not about Russian festivals. Sorry!
EM: How do you imagine Tuska fest after several years in the future?
Eeka: We are growing at the moment. We had over 30% more people this year than the last year. And the last year we had over 12% more people than the other one. I think we will have more than 15000 people per each day after five years. And after that I think we can book Metallica or Iron Maiden. (smiling)
EM: HIM band is having their last tour. How do you think is this the end of HIM history?
Eeka: Yeah, I think this is it. They have relief on their faces. You could see it in the pictures from exhibitions at Tiketti Gallery and at HAM. Guys are smiling in these pictures always. There is something weighted out from their shoulders. I would say this is it. Definitely.
EM: I thought the guys were smiling because they were happy, were not they?
Eeka: Yeah, of course, that's also. But it is quite different feeling. If you have seen HIM performance, you could feel it. They were in a good mood, they were really happy. This is it!
EM: Finally, can you say some words to the readers of Eatmusic magazine?
Eeka: Tuska is one of the best festivals in the world! You should come here next year, because Russia is very close. So, more than WELCOME! «Beat» Germans again and be number one among foreign fans! See you! (laughing)
EM: Thank you so much, Eeka! Congratulations with 20th anniversary of the festival and good luck in the future!
Eeka Mäkynen: You are welcome, Eatmusic!
Check Russian version here.