Some lucky musicians succeeded in conquering their audience from the start. On October 18th, Order 89 presented their first album "Bleu Acier". Just after this bright debut release, Eatmusic's journalist Kira Rtishcheva talked with vocalist Jordi Sorder and asked him a few questions about the band, the symbolism and French electronic music.
Eatmusic: Hello, Jordi! First of all: congratulations on your debut release! You know, in this day and age where everybody can make music, this artificial feeling of being competent negatively affects the quality of music. That's why the editorial office of Eatmusic wants to thank you and your colleagues for making "Bleu Acier". It is music of a rarely high quality! So let's talk more about your project and your album. 
The first question will be about the name of the band. I like to imagine that there could be a nice game of words with a new "New Order", but it doesn't work because your music is more into Joy Division's sphere than New Order itself. The reason why you chose this particular number is clear [two of three Order 89's members were born in 1989], but why "Order"? 
Jordi Sorder: So, to clarify things, we are quite influenced by Joy Division and absolutely not by New Order. The concept of an «order» seems to be interesting to us as the idea of being able to bring together all the disregarded, misunderstood, and marginalized. Briefly, our music is for all human beings to remind them that they are not alone.
EM: How long did it take to create and record "Bleu Acier"? Was there some first song which gave the start and the mood to the whole piece? 
J.S.: Our band has just celebrated its second anniversary. We composed about twenty songs during this period, and before going to the studio in March, we chose nine in the final selection. The track that gave us the impulse to release the album directly and not an EP is undoubtedly the track "Barbara".
EM: And as we talk about the whole album, can you tell us more about its concept? It is always interesting to know some details about its creation. 
J.S.: It is a journey through time and feelings. Some break in several forms: sentimental, social, transformational — from the childhood and adolescence to adulthood. It is a book that we needed to burn before we began writing the second one.
EM: I'm asking about concept because it occurred to me that it could be similar to French symbolism, where colours match with the feelings. Like in Rimbaud's "Voyelles". Is it just a coincidence that in this poem "o" is correlated with "bleu" and your project O [Order] 89 has album "Bleu Acier"?  
J.S.: It's funny that you ask me about Rimbaud because I've received the complete set of his poems as a gift. I just started immersing myself in it and to be honest, I haven't made any connection yet but yes, you can interpret it that way. The title of the album is an association of ideas between the purity of blue and steel which is rather something immutable. The combination of these two words represents what I said above, we let go of the purity of childhood and adolescence, of first loves. All this remains engraved in steel but it is behind us now.
EM: Also I found another interesting coincidence but maybe it is a pattern. Your very first song (which can't even be found now, but I saw the publication on Facebook) was named "Dead End". The opening song on "Bleu Acier" is "Perdition". Is it an intentional instant immersion into the darkness, like an initiation ceremony? Or maybe your homage to the depression's trends? 
J.S.: It is not our intention to glorify darkness, we simply find it more inspiring as well as much more poetic. We are constantly looking for urgency, accidents and illusions to feed ourselves and draw a positive conclusion. People with smiles are not necessarily happy, it is the same for us, but the opposite. 
EM: As Order 89 exists somewhere between post-punk and electronic music, let's talk about these genres separately. I even won't even ask you where the best electronic music (especially dark disco and cold wave) is being made because I know the answer. So in your opinion, what is the secret of French electronic music and why is it so great? 
J.S.: French electro was born in the 90's. We grew up with it and with artists like Daft Punk or Justice. We are part of the second generation. At the very beginning it was the way to group the French electronic music that was listened to abroad under one name. It is rather a movement than a style. What is great about this label is that in a few years French electronic music has become a reference in the world and for us too. With inspiration by guys like Gesaffelstein or Kavinsky.
EM: Mondowski — who made remix on your title track — is known here in Russia. And do you know any Russian electronic projects? I can be sure only with one name and I hope you will name him (a little clue!). 
J.S.: Concerning Mondowski I am proud to discover that he is known in Russia because he is my little brother! Also I have a side project with Anton Berezin, an electro producer from St.Petersburg. Our group is called "Otchim", and our first work should be released by the end of November. Other than that, I have to say that my culture is limited for the moment.
EM: Wow, I was just waiting for you to name Mujuice, but your answer is even better! And if we can go to another topic, to post-punk, is this genre popular nowadays in France? 
J.S.: France has lost its rock identity for several years now… Rap largely dominates the debates and occupies absolutely all the media. Even though there is a nice underground post-punk resistance waiting for a comeback.
EM:I'm asking because here in Russia it goes almost after rap in popularity. And I'm  100% sure that you even can even name one of the Russian post-punk bands, it is well known abroad. 
J.S.: I particularly like Human Tetris even after their changes of line up and of course Motorama which I have already seen for the concert here in France.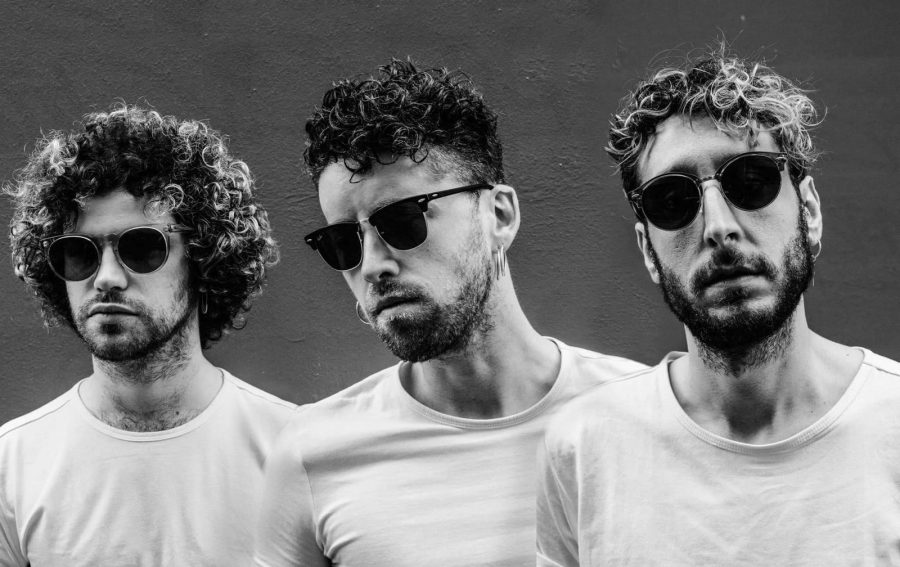 EM: Well, enough about others, returning to Order 89. I know that you started from a techno project. Do you guys already have further plans? One more change of direction? Europe tour, second album? 
J.S.: Indeed, at the beginning we were a dark techno duo and it was only after Eliott's arrival with the guitar that radically changed direction to come up with this first "Bleu Acier" album. We don't like putting people in boxes. Nothing will stop us from refining, asserting or changing our musical colour for the rest of our career. Now when the album is out, we will have to defend it here in France and —  if fate allows us —  abroad too. We make music to express ourselves and it is on stage that we feel most at home so we hope for a tour by 2020.
EM: Thank you so much for your time and for this interview! Eatmusic wishes you good luck with promoting debut album and inspiration for new music! 
We thank Mikalah Jenifer for the help in preparing this material.